Search found 3 matches
Search found 3 matches • Page 1 of 1
by Kakarot

Sat May 30, 2020 1:19 am
Forum: General Discussion
Replies: 1
Views: 777
Hi. Is this security bug currently fixed?
by Kakarot

Mon May 18, 2020 11:41 pm
Forum: RHEL/CentOS
Replies: 7
Views: 3311
In my case after changing "fail2ban-server" for "f2b/server" it works for me, but my fail2ban also consumes a lot of RAM in centOS 7, is this normal? Can it be reduced?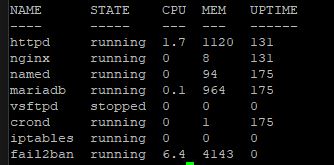 If I disable all the "jails" fail2ban it consumes about 3735 mb
Search found 3 matches • Page 1 of 1