Hi.
First of all as I say always, sorry for my bad english, I try to improve every day :)
--------------------
SK PHP Selector:
- This script using vesta templates.
- This script using remi repo.
- I make this script to help people who whant run Multiple PHP versions on vestacp, is easy to do manually but this script makes it easier even
- Ubuntu PHP selector for vesta ?
-- Coming soon, but you need spend time on compilation of php 15 / 20 minutes for each versión.
- Not SUPPORT NGINX + PHP-FPM
Some caps: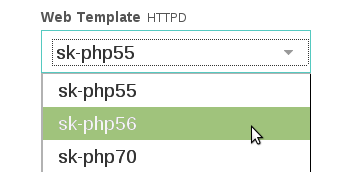 ===========================================

UPDATE
Code: Select all
Beta 0.2.4
- Added php 7.1 and php 7.2RC3
- Fix some issues with phpmyadmin

- This version is available from github ->
https://github.com/Skamasle/sk-php-selector
Code: Select all
Beta 0.2.3
- Remove some code and tests.
- Using simlinks for templates.

[code]Beta 0.2.2
- Fix bug on centos 6 paths thanks @tjebbeke to reporting
-- Now check twice php path on centos 6
- Fix Include Optional on centos 6[/code]

[code]Beta 0.2.1
- Working on Centos 6.7 and Centos 7
- Detect PHP versión.
- Install php 5.4, php 5.5, php 5.6 and php 7.
- Support if php was upgraded, skip that version.


-- Requirements:
- Centos 6 or centos 7
- Default vetacp installed whit remi repo
[/code]

[img]http://mirror.skamasle.com/vestacp/phpinstaller.png[/img]

beta 0.2.3 installer:

[b]Run at own risk ![/b] still in beta, [b]This it provided without any warranty ![/b]

[code]wget http://mirror.skamasle.com/vestacp/PHP/sk-phpinstaller_beta02_3.sh[/code]

[code]bash sk-phpinstaller_beta02_3.sh[/code]

[b][size=150][color=#FF0000]Need PHP 5.2 ?[/color][/size][/b]

Check this -> https://forum.vestacp.com/viewtopic.php?f=19&t=13406

[b]Multiple PHP on VestaCP - Adding Modules[/b]

You can install any modules to aditional php versión using remi repo:

Search module:
[code]yum search php70 --enablerepo=remi |grep opcache
#output:
php70-php-opcache.x86_64 : The Zend OPcache[/code]

Install:
[code]yum install php70-php-opcache --enablerepo=remi[/code]

Then search ini if need it:

[code]/usr/bin/php70 --ini |grep opcache
Additional .ini files parsed: /etc/opt/remi/php70/php.d/10-opcache.ini,
Some problems whit big files on joomla, wordpress, plugins or modules fix ->
http://forum.vestacp.com/viewtopic.php? ... 843#p43749